Interview #7 — Matthew Siu-Hon Pit
Interview by Leah Jing McIntosh
Matthew Siu-Hon Pit is an Australian Olympic Weightlifter and physiotherapist who competes out of Phoenix Weightlifting Club. He has represented Australia in three international competitions, and is the 2016 Australian Champion in the 85kg weight class. We talked to Matthew about lycra, weightlifting for Australia and taking care of cacti.
How did you first get into weightlifting, and how have you made it to this point?
I was first introduced to weightlifting in high school. Weightlifting wasn't actually offered as a sport, it was instead used to supplement other sports. I was involved with rugby and athletics at the time, and it turned out I was pretty good at lifting weights! So after I finished school I decided to pursue weightlifting, and became involved with Phoenix Weightlifting Club.
Within two years I qualified for my first international competition. I represented Australia at the Arafura Games/Oceania Championships as a Junior in 2011. I successfully made all 6 of my lifts, got three new personal bests (PBs) and two bronze medals; to date it remains one of my most memorable competitions.
Despite my early success, the next few years I struggled, not improving very much at all. Every kilo was a grind. I felt that I invested so much time and energy for very little gain. This is the point where many people get discouraged and quit. But 2016 was a bit of a breakthrough year for me—I became national champion. I also competed internationally, in Merida Mexico, at the World University Championships.
What's next for you?
2017 is the qualifying year for the 2018 Commonwealth Games, which will be held in the Gold Coast. It has always been my dream to compete at the Games. I've decided to go all in, to try my hardest to be selected in the Australian team. I've switched to part time work and I'm training eight times a week, two hours a session.
I think my two biggest enemies are time, and myself. Self-belief will make or break an athlete and sometimes I find it difficult to believe that I can do this. It's both scary and exciting at the same time.
What drives your love of weightlifting?
It can be a very frustrating sport, but it can also be incredibly rewarding. The movements are incredibly technical but if you execute it precisely it looks and feels beautiful. I remember the first time I saw someone snatching properly; it looked like he was dancing. That's probably the best way to describe this sport, it's like dancing.
There's a quote by the weightlifter Yury Vlasov, the first person to clean and jerk 200kgs, he talks about a 'white moment' and that quote has always stuck with me,
At the peak of tremendous and victorious effort, while the blood is pounding in your head, all suddenly comes quiet within you. Everything seems clearer and whiter than ever before, as if great spotlights had been turned on. At that moment, you have the conviction that you contain all the power in the world, that you are capable of everything, that you have wings. There is no more precise moment in life than this, the 'white moment', and you will work hard for years, just to taste it again.
This sport has given me that 'white moment', it's an incredible feeling. The best way to describe it is, you've just lifted an incredibly heavy weight above your head, but at that moment in time it feels like the bar weighs nothing and the entire movement was effortless.
What's it like wearing lycra all the time?
To quote the Simpsons, It feels like I'm wearing nothing at all! Nothing at all! Nothing at all! Stupid sexy Flanders.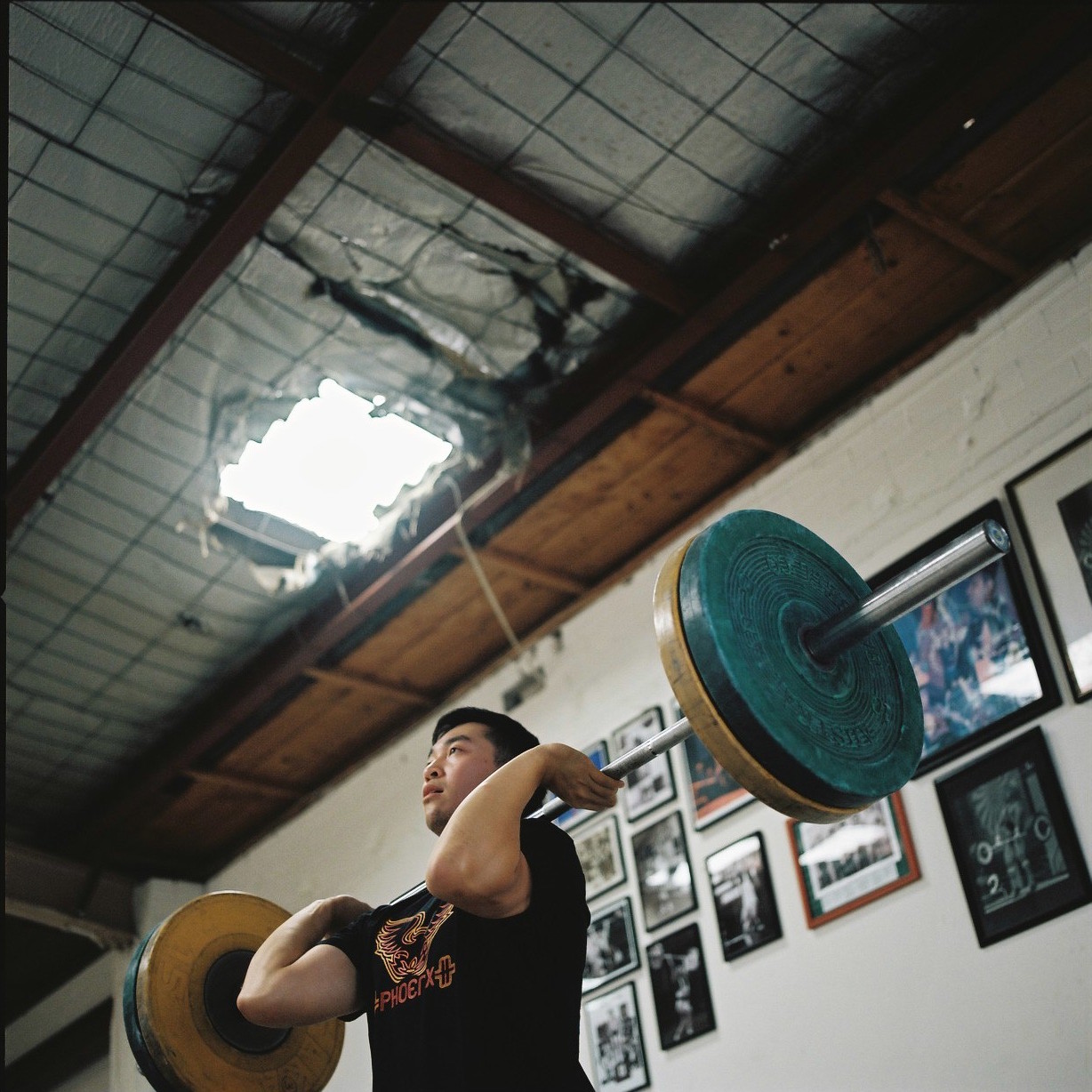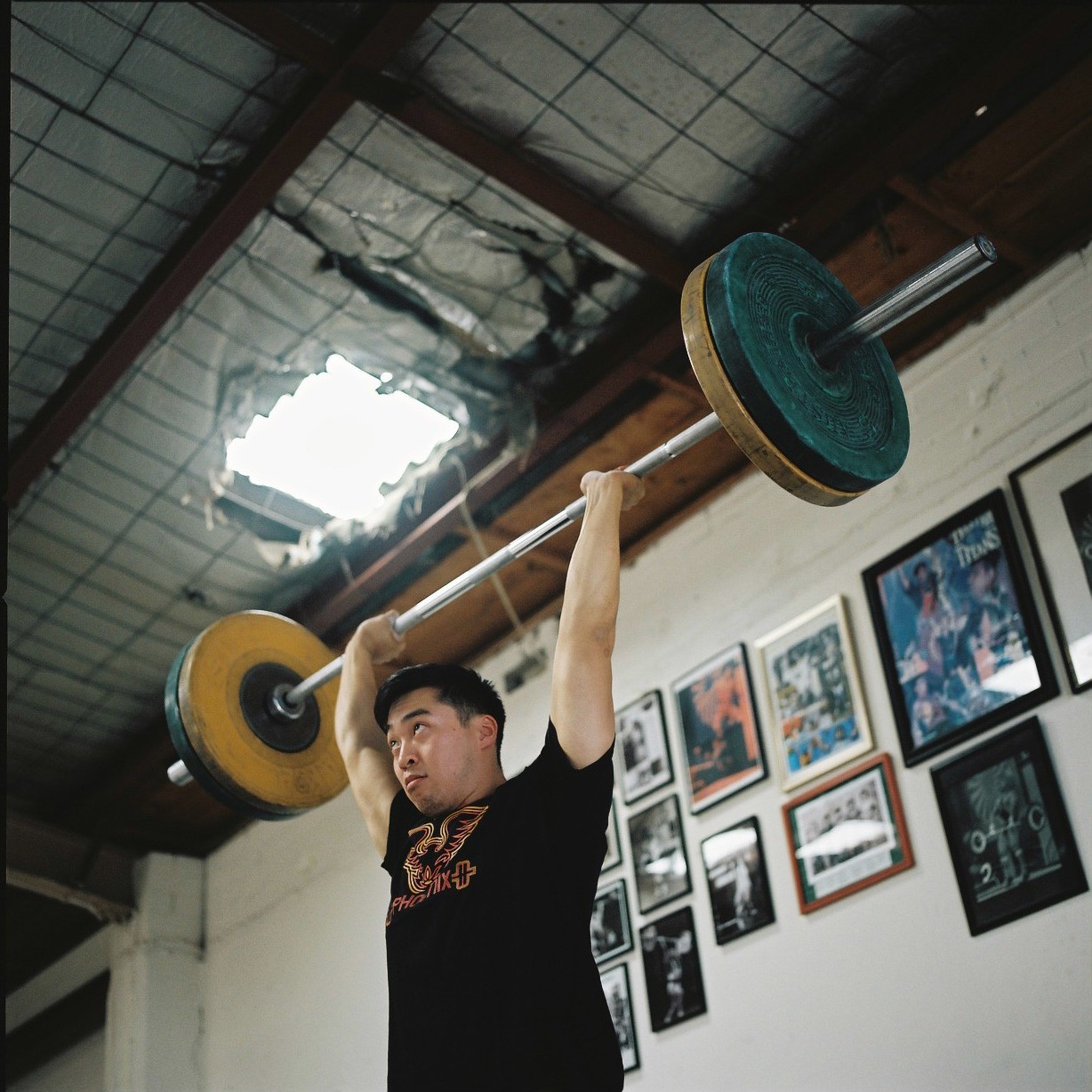 Who are some of your inspirations?
My coach, Robert Kabbas, has looked after me for 7 years. Not only is he is patient, kind and understanding, but he is also a brilliant weightlifter. He's won a few Commonwealth Games, and in the 1984 LA Olympics he won a silver medal. I like to emulate him in both lifting and life.
I'm also inspired by my old training partner, Liam Larkins. He is by far the most dedicated lifter I have ever met. He lives and breathes the sport. Many emphasise that you need to be talented or gifted, however there is less emphasis on the dedication and determination needed to succeed. I think 90% of this sport is purely the willpower to continue despite adversity. Liam is the epitome of this. He works hard despite external and internal pressures, and this is what makes him one of the best Australian lifters currently in the 85kg category.
How well are Asians, and Asian-Australians, represented in the sport?
Some of the best lifters in the world are Asian. China is arguably one of the best nations to currently compete in this sport. North and South Korea, Chinese Taipei and Japan are also all doing well on the World stage. If you were to ask many weightlifters who they draw inspiration from, the majority would most likely mention a Chinese lifter. Again, this is why I love the sport—it's based on merit.
In terms of Asian-Australians competing in the sport, I'd say we are well represented. Seen Lee competed in the London 2012 Olympics as the only Australian female weightlifter. Erika Yamasaki is one of Australia's best female lifters. She is the first Australian female lifter to clean and jerk double body weight, and has a bronze medal from the 2006 Commonwealth Games. Kiana Elliot is another female Asian-Australian lifter doing amazingly well—she's competed multiple times on the world stage. We also have Jess Lai and Leo Lark who competed in the recent Commonwealth Championships in 2016. There are many more, this is just off the top of my head!
Incidents of racism plague the AFL. Have you had similar experiences whilst pursuing weightlifting?
Very little, and no incident that I can specifically remember. Weightlifting is an interesting sport because it is based entirely on an objective measure – who can lift the most weight above their head. Therefore, people don't care if you're White, Black, Asian etc.; they care about your passion for the sport and how much you can lift. It's not about your race; it's about your merit. At least that's what I like to think, and that's how I always viewed it. I might just be optimistic… or terribly naïve.
Outside of this seemingly beautiful weightlifting utopia (!) do you have any coping mechanisms for the racism you do experience?
Usually I just shrug it off. I'm not one to let things get to me. Racism can be extremely overwhelming. People can just casually throw it into everyday language and not even blink an eye. Because it's so prolific, if you let racism affect you, you wouldn't be able to function.
One of my coping mechanisms is rather than getting overwhelmed by the idea that a group is abusing and oppressing another group, I like to judge these people on an individual basis. Rather than thinking something like these Australians don't want us here because I'm Asian, I think this asshole is saying assholish things to me purely because they're an asshole. For me, thinking of racists as individual assholes is a lot easier than being overwhelmed by racism as a whole.
As a kid I didn't know how to deal with racism, and I hated being Asian. It felt shameful to be of a race other than white. I know, it's stupid, but that's what it was like. People would say things to me and I'd think why can't I be white? It's actually quite embarrassing to say now, but when you're a kid you want to fit in, and being Asian didn't let me do that. I actually remember hating my small flat nose. It's funny now because I actually really like my small flat nose.
It's a great nose.
Haha, yeah, I know that now. I think at the time, considering this kind of casual abuse as racism really overwhelmed me: I tried my hardest to be white. I even identified as white. So this is why I shrug off racist comments and judge people individually. Otherwise it just gets too overwhelming.
I'm quite proud to be Asian now. I'm slowly learning to embrace it, but I feel like I'm so far behind.
How do you cope with the fear of losing in a sport where there can only be one 'winner' or one gold-medallist?
I guess it depends on what competition I'm in—sometimes I'm there to better myself and have fun, whilst in other competitions I'm there to win. There is definitely a fear element to this sport; there is always that doubt that crosses your mind. I mean, you're throwing heavy weights above your head!
In this sport, doubt and fear will break you. The trick is to always approach a weight, or competition, with impenetrable self-belief. Never think you'll miss a lift and you'll never miss a lift. Never think you'll lose and you'll never lose. As soon as you think you'll lose, you've already lost. You basically have to have so much self-belief it borderlines delusion.
How do you balance the pressures and demands of being an elite athlete, with other aspects of life?
It's very hard to juggle all aspects of your life, yet it's really important to have some involvement or fulfilment in all those areas. I usually try and stick to a routine. I know when I train and work and those times are non-negotiable. I also know what days I need to go to bed early because I need to be fully recovered for training the following day. Everything else is structured around those main aspects of my life. Sadly, I found out the hard way what happens when you shut off your friends because you're too busy, so now I make the conscious effort to see friends as much as possible. I think my family and friends understand how busy I am, but I don't want them to feel as though they can't reach me.
Do you have any pre-competition rituals?
I have some pretty silly rituals. I need to have a haircut within a week of competing— to reduce wind resistance and make me faster when I lift. A stylish haircut is always preferred, we joke that it adds 'style points' to our lifting. There are no points for style in this sport.
I also need to wear my bear socks. They have tiny bears on them, but don't let their cute demeanour fool you. They're fierce, just like how I'm meant to be when I'm competing.
During the competition, I drink two Powerades: a blue Powerade, for the 'snatch' component of the competition, to help calm me down; and a red Powerade, for the 'clean and jerk' section of the competition, to help me fire up. I also drink a coffee prior to competing and a Red Bull during the competition, as during a comp, you're running on adrenaline and caffeine.
Do you have advice for people wanting to get into weightlifting?
If you're thinking about trying weightlifting, you should join a weightlifting club. It's an incredibly friendly community, so don't get intimidated. My club is not-for-profit, the coaches are all volunteers and none of them are paid. They just do it for the love of the sport.
More generally, my best advice would be to never give up. Even when you're in a slump, if you keep chipping away you'll get there eventually. As my coach says, 'it's like water dripping in a cup; the water keeps dripping in, and the cup will eventually overflow.'
Aside from your weightlifting, you work as a physiotherapist; what do you like most about your job?
I currently work in a private physiotherapy clinic dealing with musculoskeletal problems in the general population. My ideal career path would be to enter into sports physiotherapy and treat athletes. I find them fascinating to work with and I understand and relate to them. I also work with a rugby club and I love it! My main reason for entering this career path was to help people. I think my sporting background has really led me into this field. It has fostered my fascination with understanding the human body, especially my own. Personally, I've had to overcome sporting injuries and this was facilitated though physiotherapy, so it was only fitting that I entered this profession.
My favourite thing about my job is seeing people improve. It makes me so happy knowing I helped them when they reach their goal. I also really enjoy the problem solving involved in diagnosis and treatment – it keeps things interesting.
 
Aside from being a professional weightlifter, physiotherapist, and lover of lycra, do you have any time for other hobbies?
In reality I don't really have much spare time, for hobbies, but I do love looking after my house plants – my favourites are cacti! There's something about the time it takes to care and nurture a living thing that is so incredibly rewarding. They also really add life and character to a room.
Do you have any tips for taking care of cacti?
My two tips for taking care of cacti is to make sure they get plenty of sun and to avoid over-watering them. Usually as a rule of thumb, you'll only water them every 3-4 weeks, depending on how hot it is. If you overwater them, their roots can rot and they won't last. You need to love them, but not smother them! To be absolutely sure they need water you should put a finger in the soil about 5cm deep to see if the soil is dry or moist. If it's moist, you shouldn't water them, if it's dry you can water them. If you're unsure, it's best to not water them.
I like to gather all my plants together and put them in the backyard to water them. This way they get water, sun, fresh air and some plant socialising time. I'll leave them out there for a day or two, then bring them back in.
Where do you find your plants?
I get my plants from all over the place. Some from plant shops, others are from cuttings I find or from friends. My favourite plant store is Cool Cactus in Armadale.
Do you have a favourite?
I have this cool little cactus with tiny little bulbs that clump together. It kind of looks like a brain. It's my favourite!
What are you watching at the moment?
Adventure Time. It's my favourite show.
What are you listening to?
Kendrick Lamar; Nick Murphy; Julia Jacklin; Harvey Sutherland; Sampha; Meg Mac; Airling; Alt-J.
What are you currently reading?
I'm a physiotherapist, so a journal article on extended preoperative rehabilitation and outcomes two years after an ACL reconstruction.
How do you practice self-care?
Sleep (I nap a lot), eat junk food (burgers are my favourite), cook, sit in the sun and stare aimlessly into the distance, have my alone time (I'm pretty introverted), drink coffee or tea, listen to music or go to live gigs, look at beautifully designed houses on the internet, go to art galleries, watch cartoons, look after my house plants—and finally, lift weights!
What does being Asian-Australian mean to you?
It means being you—being proud of your identity, your heritage and your upbringing.
interview & photography by leah jing mcintosh